Madison4Kids is proud to announce that we have provided The First Tee of South Central Wisconsin with a $1,000 grant to fund summer golf scholarships for children. The First Tee aims to impact the lives of young people and their families by providing educational programs for youth that build character, instill life-enhancing values and promote healthy choices through the game of golf.
The First Tee's vision is to create a community where all kids, regardless of background, are given the opportunity to dream and work for a better future. Their programs help youth work towards high school graduation, prepare for college and provide them with mentoring, internship and job opportunities. The First Tee helps students achieve their goals by providing comprehensive golf and skill instruction, strong relationships with mentors, equipped golf facilities and classrooms and a variety of summer and after school programs.
"Thank you so much for the very generous $1,000 grant towards our summer programming. We are thrilled to partner with Madison4Kids this year and cannot thank you enough for the support," said The First Tee's Executive Director, Joe Loehnis.
In 2014, the First Tee served over 900 youth in their spring, summer and fall programs at their eight golf facilities. In addition, their partnerships with 30 schools in South Central Wisconsin, as well as several youth service agencies in the area, allowed them to welcome 12,000 youth into their curriculum.
Last fall, The First Tee started an after school pilot program at Vitense Golfland, where they not only provided golf instruction but also academic assistance to over 70 kids from four schools in Madison. Their vision is to have an after school program for hundreds of youth in Madison, where they can learn life skills, form positive relationships and increase their chances of academic success.
Children ages six to eighteen can participate in programs offered by The First Tee of South Central Wisconsin at all of its locations. Madison4Kids is proud to help provide children with a healthy and supportive environment where they can enjoy the game of golf while learning how to become future leaders and role models.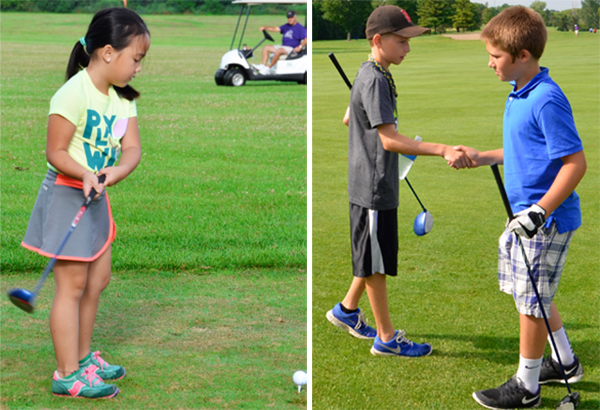 Help Madison4Kids Give to Local Kids
Make a difference in your community by donating to Madison for kids! Our mission is to help kids and children-based organizations in the greater Madison, Wisconsin area with a  focus on helping to fund educational and healthy activities that build confidence and provide inspiration for children. Your contributions are 100% tax deductible and help kids ages 17 and under. The money you give benefits kids in Dane County, not salaries or national programs. All Madison4Kids staff is volunteer only.
Apply for a Grant
Do you know a child or a children's organization in the greater Madison, Wisconsin area that is in need of funding for an event or something else? Apply for a grant today!