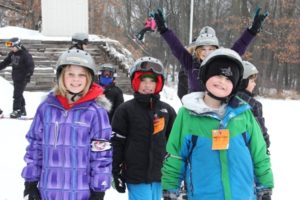 Madison4Kids provided the local chapter of Riding On Insulin with a donation of radio communication devices to keep children with type 1 diabetes safe out on the ski hills. Coaches and volunteers for kids attending day camps can stay in contact with medical personnel in the lodge, should there be an issue with blood sugar levels. With 50 kids per day per camp, 10 radios were needed to make sure all kids are safe.  Cell phones have proven unreliable on the ski hills with bad reception.
"Our donation from Madison4Kids allowed us to buy high-quality handheld radios. With these radios our volunteers and coaches can radio home base and be in contact at all times with our medical volunteers, staff, ski patrol and parents. The safety net is so important for the comfort of the parents who are trusting us with their kids and allowing them to be independent if for only a day." said Michelle Page-Alswager, Riding On Insulin Development Director.
It feels great to help kids in our community!