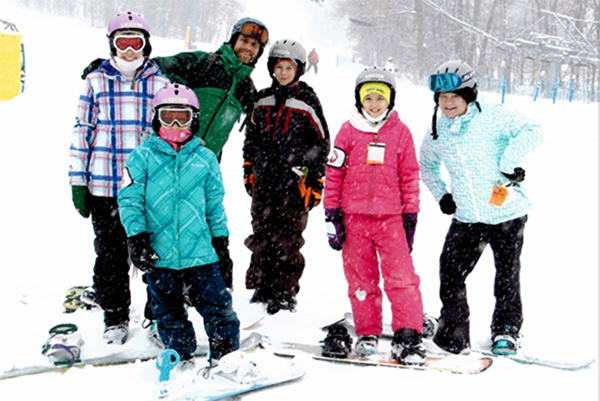 Madison4Kids is proud to announce that we have provided Riding On Insulin with a $1,000 grant.  Riding On Insulin is a charitable organization that empowers, activates and connects the global diabetes community through shared experience and action sports. Riding on Insulin helps establish a comfortable, shared environment for children with type 1 diabetes. They strive to help families explore new passions, challenge the illness, and celebrate each other's successes.
The $1,000 grant provided by Madison4Kids will be used to purchase armbands for children attending Riding on Insulin's Wisconsin winter ski and snowboard day camps. The armbands will help campers, staff members and volunteers easily identify each other should they get separated.
Riding On Insulin was founded in 2004 by Sean Busby, a pro snowboarder with type 1 diabetes. After being diagnosed at age 19, Sean read stories about kids and teens living with type 1 diabetes on the JDRF Children's Congress website. The stories drove Sean's desire to give back to these kids who inspired him to keep snowboarding after a complicated diagnosis. From there, Riding On Insulin was born.
Riding On Insulin's programs include ski and snowboard camps for children and teens in three countries around the globe. These 1-day camps are open to children ages 7-17 who are living with type 1 diabetes and their siblings.
We are happy to help local kids discover winter sports and connect to a community which is supportive to their experiences with type 1 diabetes.
Help Madison4Kids Give to Local Kids
Make a difference in your community by donating to Madison for kids! Our mission is to help kids and children-based organizations in the greater Madison, Wisconsin area with a  focus on helping to fund educational and healthy activities that build confidence and provide inspiration for children. Your contributions are 100% tax deductible and help kids ages 17 and under. The money you give benefits kids in Dane County, not salaries or national programs. All Madison4Kids staff is volunteer only.
Apply for a Grant
Do you know a child or a children's organization in the greater Madison, Wisconsin area that is in need of funding for an event or something else? Apply for a grant today!